Bedhead Waves with José Eber Clipless Curling Iron
While I usually use a
to curl my hair, when I am in a bit of a time crunch, or when my hair is still relatively wavy from the day before and just needs a bit of a touch up I use the José Eber Clipless Curling Iron.
If I have recently washed my hair but don't want to go through the entire curling process I wear my hair in a braid while I get dressed and do my make-up, and then when I take it out it has a bit of a wave already.
This is a great alternative to the flat iron waves because you don't have to do your entire head, you can just pick out the pieces that need a little more wave.
To achieve these effortless looking bed-head waves, I use the
25mm José Eber Clipless Curling Iron
.
How To:
1. Start with second-day hair or a braid to get the a bit of wave.
2. Take the
and wrap a piece of hair around it, taking care not to burn your fingers. Hold for 30 seconds and release. Continue until all desired pieces are curled.
3. Repeat on the other side.
4. Once you have curled all of the pieces, take a small amount of product (I use
, but you can use any product of your choice that is not sticky) and work it through your hair.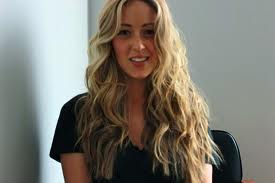 I have teamed up with Jose Eber to offer you a chance to win your own
José Eber 25" Clipless Curling Iron
!
To Enter:
Leave your name, email address and
handle in the comment area.
The winner will be drawn on Monday April 30th and announced on
.
Good Luck!
(The Giveaway is now Closed. Thanks to all who entered!)
A Fashion Love Affair